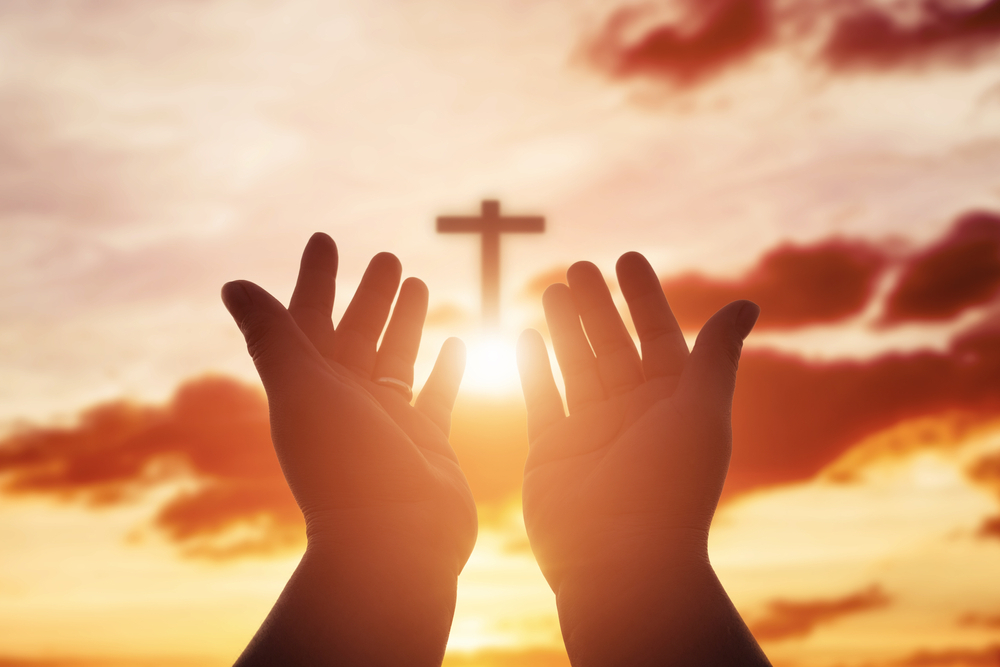 My Personal Story of Evangelism
In August 2020, our family planned a vacation in the Adirondack Mountains. We were quite excited about getting out of town because Covid had a way of keeping us in town, and we hadn't had a vacation in a long time.
As I was finishing my packing, I looked over at my bookcase for something to read during my time away and found a book that had been there a long time, and I had browsed it, but I had never read the book from cover to cover.  The title of the book was "Priority One: What God Wants" by Norm Lewis. I felt a strong urge to take it with me, so I threw it in my bag.
Once settled in the house we had rented, it wasn't long afterward when I started to read the book, and very soon I experienced a feeling of excitement and anticipation. You see, I was beginning to learn what God's priority is: sharing the Gospel with others, and re-prioritizing my life in such a way that I would place an emphasis on The Great Commission.
I've been a Christian for a long time. I was "born again" in the early 70s when my wife and I were visited by a young evangelist. We didn't know him personally but he was loving and gracious as he shared the Good News with us. And from that special day, the Gospel began to affect everything in our lives and still does so today.
Over many years since then, I shared the Gospel with quite a few people.  These people were largely friends, acquaintances, family members, co-workers, and even some strangers. I also had a brief stint with Evangelism Explosion, but I wasn't sure I was ready for that, it seemed premature because I didn't know that much about the Gospel.  Then life got in the way of my evangelism plans as our family was started and grew. Yet, years later, I was back to some efforts and handed out lots and lots of Pocket Testaments to any person who would take one. As I read Norm's book, I began to see how I had missed the boat. It wasn't that I didn't want to witness, it was that I didn't ever actually commit to it! I was just kind of laissez faire about the subject. I didn't make a commitment and often I didn't do much at all to share the Gospel. Now I'm 67 years old and on that vacation last year, I realized I had made a huge mistake! And then the scales fell off my eyes: If I could believe that witnessing is a priority He has for us, then maybe I should make it MY priority! 
Oh my, what do I do now?
I started by changing my mind about this subject. Or should I say that God was changing my mind about this subject! As a result, I looked to God's ways because His ways are always higher than my ways. The Bible calls this "repentance"! So I told God I was sorry for not doing what I was supposed to do, and I was sorry for being selfish. Then I started to work in the opposite direction of my sin…and towards the idea that I would "step it up", not in my own strength, but in His! I knew by then I couldn't do any of the above mentioned stuff alone, but I could do "all things through Christ Jesus who strengthens me."
Back to Norm's book for a moment. I gobbled up the whole book in a few days. That was easy because the book is a quick read and it's filled with interesting anecdotal stories of believers who started to take God's command seriously. Not perfectly, but seriously. As they (the believers in the book) went out and began to open their mouths, God filled those mouths and as a result, seeds were being planted, the Gospel was advancing, and people were being saved by Jesus.
I started to get very excited because I couldn't think of anything more important. I was getting older and I knew my time on this earth was limited. How could I not spread the Gospel? If Jesus went through all he had to suffer to bring us eternal life, the least I could do is to tell people, hand out some tracts, have an evangelistic conversation with some of them, pray for them, and live a spirit-filled life of love in Christ so that I wouldn't get in the way of them hearing the truth!
So I began praying and began thinking about evangelism. I asked God to show me what to do. He answered, not audibly, but by His Spirit. All of a sudden I started to get what I called "downloads". I was literally flooded with ideas that would move me and the Gospel forward. Not for my glory, but for His! I wanted Him to get all the credit and the entire spotlight.
I began to write things down because I had so many ideas, potential plans, and new insights. I felt God was also leading me by the desires of my heart. For instance, I was very attracted to Ray Comfort and Living Waters Ministries, headquartered in California. I was attracted by his "Open Air" preaching, usually in parks, streets, and on beaches.
For years now, Ray has virtually owned the evangelism space on YouTube. Most of his encounters are with people who don't know Jesus. Ray loves people and shows it in the way he talks with them, giving respect to all. At the same time, he tells them the truth that ALL of us have broken God's laws, and being a holy and just judge, God must punish sin. That said, Jesus' sacrifice on the cross provides forgiveness and eternal life for all that repent and accept His sacrifice.
Perhaps a few days after our vacation, I felt I should make a commitment to God to re-prioritize my life. I didn't write out a contract or even make a promise. But I simply asked God for the grace to put him first in my life and to live out the plans He had already made for me. ("For I know the plans I have for you" – Jeremiah 29:11; "For we are his workmanship, created in Christ Jesus for good works, which God prepared beforehand, that we should walk in them." – Ephesians 2:10
I also had the desire to start an evangelistic ministry. And I believe God gave me that desire. But first I would need to start doing what an evangelist or a witness needs to do: I had to get my "feet wet" by starting to do what I would eventually recommend to others by launching out and sharing the Gospel.
I got some tracts. I started with some Million Dollar bill tracts (containing a Gospel message on the back) and began passing them out, mostly to strangers. I was both scared and bold. Scared when I walked in fear of people, what they might say, or how they might react. Bold when I trusted God.
The Million Dollar bill tracts were an instant success. I would guess 98% of people I offered them to accepted them, and most seemed happy with my gift. This had the great benefit of relieving any fear or attention I would have. Some of those handouts set up a Gospel conversation. In those cases, God proved His promise that He would fill my mouth with the right words. That was awesome and supernatural, in my opinion. Others who just took the tract and walked away…well, the tract is so powerful and loving (like our God), I would guess 80% or more might read the salvation message on the back of the bill once they got home or in the safety of their car. Bingo! Seed planted!
I did other things to get started and they worked. I started to get trained by virtually attending the School of Biblical Evangelism, affiliated with Living Waters Ministries.
I knew that by watching Ray Comfort and other evangelists and ministries that I could not become a skilled evangelist overnight. But I also realized that I could become better and better in Gospel conversation and witnessing than I was presently. Certainly, growing in this area was going to take some effort, but doing so would produce some fruitful results.
Some of my best personal evangelism outings these days are just taking a walk and asking God for an encounter with another human being, and some of those walks I don't even ask for that encounter. Today was such a day. It had been a busy morning, and I was in my office for a few hours, and I just had to get out for some fresh air. So I walked "uptown" which is a 2 mile walk up and back in our small town. I was praying all right, mainly for deliverance from stress and anxiety! And I did have tracts on my person. But this time around I didn't specifically ask for what I call "appointments" or "divine appointments."
Nonetheless, 2 such appointments showed up as I strolled through town. First, I ran right into 3 workers who were taking tools and supplies out of a truck. I went right up to them, wished them a Merry Christmas, and gave each one of them a Million Dollar Bill/Gospel Tract. Then, I let them know the writing on the back of the bill was about Jesus, wished them another Merry Christmas, and waved goodbye. They looked a little bit stunned and very curious. They seemed happy to receive my little Christmas gift which is really the best gift anyone could ever give them. As for me, I was ecstatic and praised the Lord that I could be used to deliver these guys the Gospel.
A few minutes later, I was on the main road, and a car pulled into a driveway just steps away from me and as it did, the man inside called out "Sorry!". Now I wasn't in any real danger but I appreciated his caution and care all the same, especially since we both live in New Jersey where walkers seem much lower than automobiles. So I waited and he popped out of the car, and all of a sudden I had the thought this man was possibly the father to one of my daughter's old friends. I asked him if he was and he said "I'm Emily's stepfather." With that conversation starter, we chatted briefly and then I recognized I had a quick springboard to a Gospel conversation because we had something in common…we both knew, obviously, his daughter! To make a long story short, I had no problem giving him a Gospel tract and planting a seed in the process. And as he looked over what I gave him, he seemed happy to receive it. Yes, walking in your own town and attending an "appointment" already scheduled by God for you and another person is a joyful and very satisfying way to get your exercise!
Over time, I began to grow in my boldness for sharing the Gospel. But I also realized that doing things out of my own strength could be a recipe for poor results at any time and for any encounter.  I found that if I was lacking power that meant I wasn't being conscious of God's presence or measuring His strength vs. my challenges.  And if I wasn't aware of that and if I didn't ask for his power to flow through me, then I wouldn't be BOLD! So time and again I would confess my weakness to God and ask Him to help me, and when I did step out with that faith, boldness would appear. By the way, look in the book of Acts and you'll see the apostles and the disciples prayed for boldness when they ventured out into their community. So shouldn't we pray for boldness too?
I mentioned earlier the idea of creating a ministry. How did that come about? I believe it came about because God wired the desire in me to do just that. Sure, I could be content just sharing the Gospel with others in my own "circle of influence." But what if I could create an organization with God's help that would greatly multiply my own personal efforts? Wouldn't that result in more people being "touched" and "saved"? And wouldn't the stewardship of my ministry be much more exciting, fulfilling, and visionary? Didn't Billy Graham subscribe to something similar when he started his worldwide crusades? He apparently decided to grow himself and his ministry as big as God would allow him. Now I'm not comparing myself to Billy Graham. But as Billy had one big vision alright, I could have one big vision of my own, and you could have yours, don't you think? After all, when Jesus comes nothing will remain except that which we have done for Him and for his glory. So it become easy for me to think all of this gospel sharing would be worth the prioritization, commitment, time, and effort.
This scripture comes to my mind: "What does it profit a man if he gains the whole world, and yet loses his soul?" Now this verse is about salvation but I also think it's about Evangelism.
Consider this question: what is most important to EVERY SINGLE HUMAN being on this planet? The answer is: "where will I spend eternity"? Now I realize that many people in this world HAVE NO IDEA what's the right question AND what's the correct answer…but how will they KNOW THE WAY unless someone tells them the Good News of the Gospel?
You can get everything right in this world (or think so), but if you get all you want and miss HEAVEN and ETERNAL LIFE, what have you gained? Nothing!
Jesus said: "Go into all the world and preach the Gospel to every creature.  Make disciples of all nations, teach them to follow my commandments. And pray to the God of the Harvest to send more workers into his harvest.".
I endeavor to do my part, with God's grace and by His Spirit. This is the beginning of an effort to point to JESUS and his saving power to people who don't know HIM. It is also an effort to convince mature born-again Christians they need to share the Gospel with the lost. AND to encourage fellow believers in their circle of influence to do the same. Because right now, according to reliable statistics, less than 2% of Christians share the Good News.
Towards that end, this ministry will be, launched, sustained, blessed, multiplied, and glorifying to God. I encourage you to get on board with us if you like, but mostly get on board with Jesus and His Gospel. That's the main thing! If you make Him and His Gospel a bigger priority, no matter how imperfectly, I promise you won't ever regret it.
Charles Spurgeon: " So, today, there is no higher rank on earth than that of a winner of souls. Be you in whatever position in life you may, if you are seeking to bring eternal salvation to men, you have far higher employment than falls to the lot of the mightiest of earth's kings and princes."
In Christ's love,
Ed Abels, Founder
Harvest Workers Fellowship
December, 2021